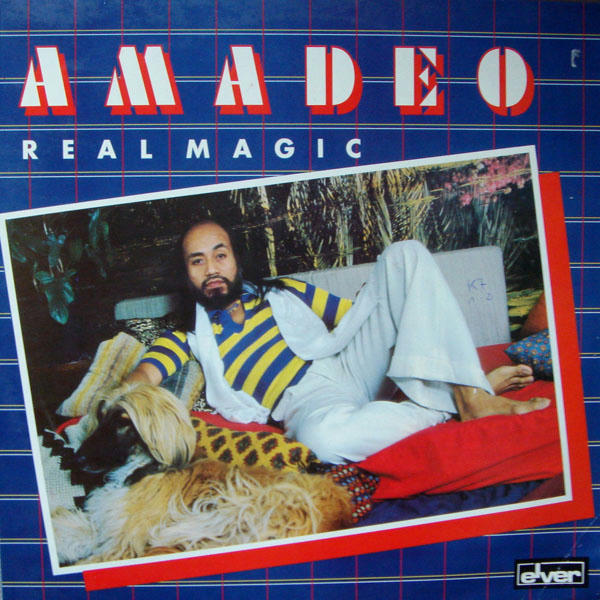 Pour tout dire, ce n'aurait pas été une grande perte pour la musique disco si Amadeo s'était arrêté à son tube de 1977 "Moving Like A Superstar" et nous avait épargné ses deux albums...car rien de bien intéressant s'en dégage, si ce n'est peut-être ce "Let Be Spirit" gravé sur l'album "Real Magic" de 1978. Les titres de cet opus sont écrits par G. Dinino, L. Carrier, Amadeo, C. Algarra et H. Goldera (ce dernier étant le pseudo de Mémé Ibach). Les arrangements sont de Guy Delo et les producteurs exécutifs sont L. Carrier et G. Dinino. L'album sort quand même dans plusieurs pays.
On l'a compris, la chanson, ce n'est pas le point fort d'Amadeo, car il est avant tout chorégraphe et non chanteur : on lui doit les sublimes chorégraphies disco de Karen Cheryl. La belle est partie fin 1977 aux States pour se mettre au disco (il était grand temps), et il est prévu qu'elle revienne en France courant 1978 avec un album sous le bras "made in USA" (ça fait rêver les français, à l'époque). Plusieurs chorégraphies sont prévues pour assurer la promotion de l'album lors des passages TV. Karen apprend donc à danser avec Amadeo.
Mais le chorégraphe travaille également avec Dalida, notamment en 1979 pour un "Numéro 1 à Dalida", émission dans laquelle on peut voir la chanteuse se déhancher, entourée de danseurs ainsi que d'Amadeo en personne. Et je le soupçonne également d'être à l'origine de l'hystérique chorégraphie que Sheila et ses B. Devotion exécutent sur le titre "King Of The World" en 1980... Il faudrait faire une enquête !
Ci-dessous, Amadeo et Dalida en 1979 dans le "Numéro 1 à Dalida" :
http://www.mediafire.com/listen/qszj9vg3xvk8zqy/Let_Be_Spirit.mp3