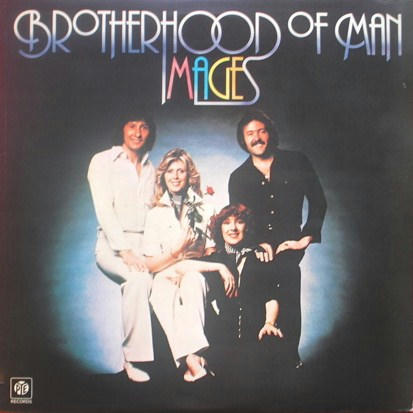 Le quatuor anglais 'Brotherhood Of Man' est resté célèbre pour avoir remporté le concours de l'Eurovision en 1976 avec leur sympatique "Save Your Kisses For Me".
Mais le début de leur carrière remonte à 1970, puisque c'est cette année-là qu'ils sortent leur premier album "United We Stand".
En 1977, on découvre sur leur nouvel opus "Images", produit par Tony Hiller, le titre "Angelo" : c'est la vague des prénoms masculins finissant en 'O', puisque la même année, un autre quatuor, 'Champagne', enregistre le titre "Valentino". Sans aucun doute, ils surfent tous sur le très grand succès qu'a connu ABBA en 1976 avec "Fernando". D'ailleurs, les deux chanteuses de 'Brotherhood Of Man' se rapprochent physiquement (mais un cran en dessous) des chanteuses Agnetha et Anni-Frid du groupe ABBA.
Sur l'album "Images", il y a aussi du disco façon 'Silver Convention' avec ce "Safety First". Et puis on y trouve aussi d'autres titres disco plus ou moins dans la même veine : "You Can Say That Again", "Sparky", "To-night's The Night"...
Le groupe continuera à sortir quelques albums (le titre disco "Beautiful Lover" connaîtra un certain succès en 1978), puis ce sera la panne au début des années 1980 : ils publieront, entre autres, un disque totalement inutile de reprises disco, à l'orchestration ratée.
http://www.mediafire.com/?68icu0v0v5h16g4