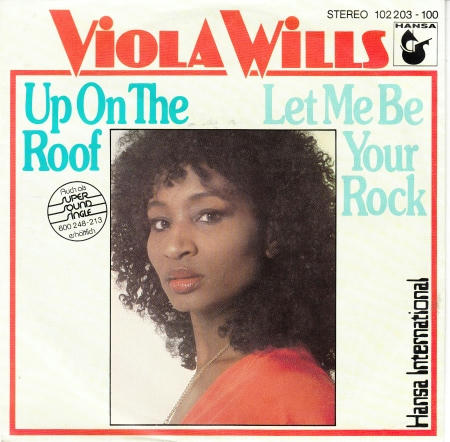 Il y a 5 ans jour pour jour, le 6 mai 2009, Viola Wills était emportée par un cancer...
Née aux USA en 1939, elle est mariée jeune et devient mère de six enfants. Plus tard, dans les années 1960, elle est découverte par Barry White qui la fait signer chez Bronco Records. Elle commence à sortir des singles. Puis, au fil du temps, elle travaille avec d'autres artistes, comme Joe Cocker.
En 1974 vient pour elle le temps d'enregistrer son premier album en solo, baptisé "Soft Centers".
1977 marque la sortie de "Let's Love Now", un single disco écrit et produit par Viola en personne, mais qui passe plus ou moins inaperçu.
Il faut attendre 1979 pour voir le succès arriver enfin : avec sa reprise en disco de "Gonna Get Along Without You Now", elle se classe à la 8e place dans les charts du Royaume-Uni. Le single est diffusé dans le monde entier.
Sur sa lancée, elle publie en 1980 l'album "If You Could Read My Mind" produit par Jerry McCabe. Le titre éponyme, une reprise de Gordon Lightfoot réorchestrée en disco, est extrait en single et devient un nouveau succès, qui se classe même en 2e place au U.S. Hot Dance Club Play. Il existe un 'extended mix' de cette version, excellemment réalisé et écoutable ici :
http://youtu.be/s8ZNGCVrscY
Enfin, la chanson "Up On The Roof" bénéficie également d'une sortie single, avec en face B "Let Me Be Your Rock". Viola passe plusieurs fois sur les plateaux TV pour interpréter ses nouveaux succès.
En dehors des reprises, on trouve également sur l'album des morceaux signés Viola Wills, comme ce "Let Me Be Your Rock".
"Love Letters" est un single à part qui sort aussi en 1980, mais personne ne semble s'en souvenir aujourd'hui.
Pour l'année 1981, l'Allemagne diffuse en single "Always Something There To Remind Me", autre titre extrait du lp de 1980 : à nouveau, ce morceau est une reprise disco des plus réussies.
En 1981 toujours, Viola lance un nouveau single, "I Can't Stay Away From You", qui ne rencontre pas vraiment de succès. La vraie surprise est sa face B, "If You Leave Me Now", qui à la base est un titre du groupe 'Chicago'. Cette version disco faite par Viola est ce qu'elle est : grandiose !
Ci-dessous : Viola dans un passage TV avec "If You Could Read My Mind" :
http://www.mediafire.com/listen/bgwb9h5hgzh7wva/Vw80.mp3