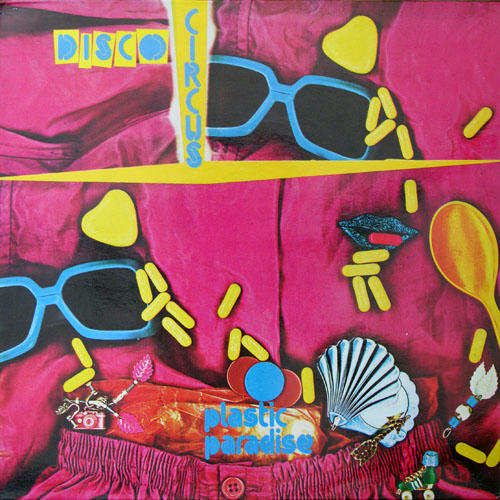 Si en 1978 le projet sud-africain 'Hot R.S.' réalise un coup de maître en reprenant en disco les titres "In A Gadda Da Vida" et "The Garden Of Eden", avec un univers et une ambiance soigneusement travaillés, il n'en va pas du tout de même pour le projet 'Disco Circus' qui en fait sa propre version la même année, dans un style très disco-rock, trop rock. Sans âme, ennuyeuse à mourir, la version du 'Disco Circus' laisse présager un album tout aussi médiocre. Et c'est plus ou moins le cas... Pas de tube ni de morceau vraiment accrocheur sur le lp, qui aujourd'hui reste intéressant à redécouvrir seulement pour se replonger dans les sonorités propres au disco des 70's. On se demande aussi quel est le rapport entre le contenu de cet album et le nom du projet évoquant le cirque... C'est le titre "Over And Over" qui, pour sauver les meubles, est exploité en single : un bon choix car c'est mon morceau préféré du lp. Il est étonnant de constater que cet album a connu un certain succès, puisqu'il a été diffusé dans plusieurs pays entre 1978 et 1979.
En 1980 sort l'album "Plastic Paradise" : rien qu'à ce titre, on pressent l'arrivée des années 1980 et ses couleurs fluo en plastique du plus mauvais goût... Le disco, toujours présent, s'oriente ici vers une pop électronique, et l'ensemble est finalement assez réussi. "Shoot" est un instrumental vraiment plaisant. Toutefois, la surprise est créée par le titre "Take Your Time", petit bijou insoupçonné écrit par Günther Moll et Stefan Wissnet.
De plus, dans la société actuelle où tout va trop vite et où il est difficile de prendre le temps de vivre, les paroles de ce titre sonnent comme un hymne. "Take your time, just like before"...oui, à présent, ces mots sonnent comme un écho aux années 1970, où tout était bien plus tranquille et joyeux !
L'album "Plastic Paradise", moins diffusé que le précédent, est produit par Jürgen S. Korduletsch et arrangé en majeure partie par Kristian Schultze. Parmi les voix, on note la présente de Claudja Barry, ou encore de Ronnie Jones. "Let's Do It Again" est le morceau qui paraît en single. Mais en 1982 au Canada, "Take Your Time" est rallongé et sort en maxi 45t. On trouve également sur ce maxi une version instrumentale du titre.
Pour ceux qui trouveraient la version originale trop courte, je rajoute un extended mix de 10 minutes qui contient plusieurs passages instrumentaux et un refrain répété plusieurs fois.