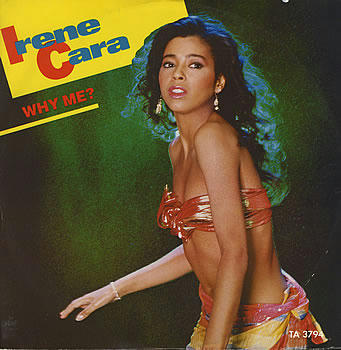 A cause des compilations et des grandes radios qui rabâchent invariablement les mêmes titres depuis des années, de nos jours en ce qui concerne les chansons d'Irene, le grand public ne connaît que "Fame" et "Flashdance... What A Feeling". On maintient ce public dans un état d'ignorance en lui mettant des oeillères pour le faire aller où on veut, en l'abrutissant à grands coups de "tubes disco incontournables" : un vrai bourrage de crâne qui rend finalement ces "incontournables" sans saveur. Vive la sous-culture des médias !
Pour en revenir à cette pauvre Irene réduite à deux titres, sachez qu'elle a sorti son premier single en 1979 : "Makin' Love With Me" est le titre de ce simple tombé aujourd'hui au fin fond des oubliettes (pour le coup, je parie une fortune que ce titre ne sera jamais joué par les grandes radios !).
Puis en 1980, Irene chante "Fame", le titre phare du film éponyme que l'on ne présente plus. C'est évidemment un très grand succès.
Elle revient en 1981 avec le single "Anyone Can See", qui est gravé l'année suivante sur l'album du même nom. Cet opus moyennement convaincant n'a plus grand chose de disco...
Le vrai réveil pour Irene intervient en 1983, lorsqu'elle participe à la bande originale du film "Flashdance" d'Adrian Lyne avec le titre "What A Feeling" qu'elle co-écrit avec Keith Forsey et...Giorgio Moroder. Oui, le Moroder des 70's est toujours bien vivant en ce début des 80's, il a su s'adapter avec brio aux changements et il apporte à nouveau quelque chose de neuf et de totalement sublime à la musique électronique. De plus, ce n'est pas la première fois qu'il collabore avec Adrian Lyne, puisqu'il avait déjà participé en 1980 à la bande originale de son film "Foxes", notamment avec les titres "On The Radio" de Donna Summer et "Bad Love" de Cher, deux perles disco. Donna Summer apparaît d'ailleurs à la bande originale de "Flashdance" avec son "Romeo"...
Mais revenons à notre sujet. Moroder ne s'arrête pas au titre "What A Feeling" : il produit pour Irene l'album "What A Feelin'" qui sort en 1983 dans le monde entier, et il co-écrit une bonne partie des titres. Irene aussi co-écrit la majorité des morceaux. Par exemple, elle signe "The Dream" avec Moroder et Bellotte. On ne peut s'empêcher de penser à cet instant à la grande période disco des 70's, durant laquelle Donna Summer elle aussi écrivait ses titres avec Moroder et Bellotte... "The Dream" est d'ailleurs un petit joyau qui bénéficie d'une sortie en single.
Parmi les autres titres de l'album, il y a les excellents "Breakdance", "Why Me ?" et "Keep On" : les deux premiers sont eux aussi gravés en simples. La version longue de "Why Me ?" possède des ponts tout à fait réussis, et le morceau, malgré ses 7 minutes, ne lasse à aucun moment... Ci-dessous, le clip de "Why Me ?" :