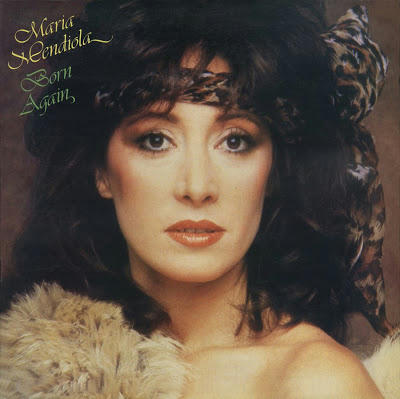 "Sugar Boom Boom" ? Mais qu'est-ce que cela veut dire ? Surtout si l'on écoute les paroles du refrain : "each night and day", "I'm just an innocent girl"...tout cela est bien ambigu. Mais il n'y a pas que ce titre qui est ambigu chez Maria en ce début des années 1980 : sa situation l'est tout autant. Elle fait toujours partie du duo 'Baccara', et même si ce tandem qu'elle forme avec Mayte Mateos est en mauvaise voie (aucun album en 1980 et 1981), quelques singles sont encore au rendez-vous. Un dernier album qui ne rencontre pas vraiment de succès, "Bad Boys", sort quand même en 1982. Puis les chanteuses, qui ne s'entendent vraiment plus, se séparent définitivement.
Mais l'année précédente, Maria et Mayte avaient déjà amorcé un début de carrière solo en sortant des disques chacune de leur côté.
En effet, en 1981, Mayte publie le single "Souvenirs From Paradise", tandis que Maria grave d'emblée un album inédit, "Born Again". On peut voir dans le titre de cet opus ("Née de nouveau" en français) le désir de Maria de rompre totalement avec 'Baccara', d'oublier cet épisode de sa vie en repartant sur de nouvelles bases. Notez la photo sur la pochette : Maria succombe à la mode du bandeau autour de la tête, une mode du plus mauvais goût, loin de l'élégance propre à la fin des 70's.
Mais alors, que vaut cet album "Born Again" ? En fait, il existe deux pressages : celui de 1981 contient le titre phare "Higher And Higher", tandis que sur celui de 1982, "Higher And Higher" est évincé au profit de "Sugar Boom Boom". Sur ce pressage de 1982, d'autres titres diffèrent également par rapport au pressage de 1981. "Sugar Boom Boom", le meilleur morceau, est un post-disco qui bénéficie d'une sortie en single. Les autres titres up-tempo présents sur le pressage de 1982 rappellent également le disco des 70's, mais on est bien loin de l'esprit 'Baccara'. Pour retrouver le côté classieux et romantique du duo, il faut se tourner vers les ballades que nous offre Maria. "They Were An Angel", "Enchanté" et "The Time Of Your Life" sont de très belles réussites. On retrouve également ces titres sur le pressage de 1981.
L'album "Born Again" est produit par Jimmy Lim, et la majorité des musiques sont composées et arrangées par Kristian Schultze. On note donc l'absence de Rolf Soja, le compositeur, arrangeur et producteur de 'Baccara', qui continue en revanche de travailler avec Mayte Mateos en 1981 pour son single "Souvenirs From Paradise".
Ci-dessous : Maria Mendiola, qui est avant tout une danseuse, exécute une chorégraphie sur "They Were An Angel" :