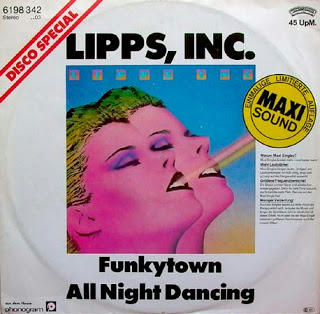 "Rock It", le premier single du duo américain 'Lipps, Inc.', sort en 1979, mais c'est un échec. Il faut dire que musicalement, c'est un peu trop pauvre, et le refrain est beaucoup trop court.
Mais le musicien Steven Greenberg et la chanteuse Cynthia Johnson n'abandonnent pas pour autant. Un album, nommé "Mouth To Mouth", paraît quand même. Un nouveau single est lancé, "Funkytown". Et là, c'est l'explosion. "Funkytown" se classe à la première place dans les charts de nombreux pays, et le single se vend à plus de deux millions d'exemplaires. L'album "Mouth To Mouth" est diffusé partout dans le monde entre 1979 et 1980. Il contient 4 morceaux, tous écrits ou co-écrits par Greenberg : "Funkytown", "All Night Dancing", "Rock It" et "Power".
"Power" se trouvait déjà en face B du single "Rock It", et "All Night Dancing" fait la face B de "Funkytown".
En fait, musicalement, "Funkytown" est aussi dépouillé que "Rock It", mais la mélodie est beaucoup plus accrocheuse, raison de son succès. Quant à "All Night Dancing" c'est le titre le plus disco du lp, et peut-être également le plus réussi.