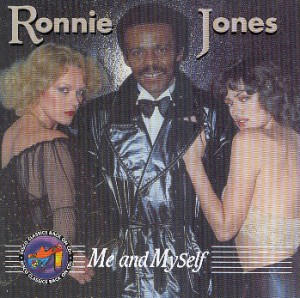 Hormis le fait de venir grossir les rangs de la musique disco, les titres de Ronnie, dans leur ensemble, n'apportent rien de vraiment très intéressant, surtout en ce qui concerne les albums de 1976 et 1980. Heureusement quand même, on trouve çà et là quelques morceaux qui captent l'attention. Son opus "Me And Myself", gravé en 1978, contient de bonnes pistes disco, à l'image de ce "Groovin'", qui sort en single, et dont la basse est un énième copié-collé de celle du "I Feel Love" de Donna Summer.
"Me And Myself" est produit et co-écrit par Jürgen S. Korduletsch, et arrangé par Jörg Evers. On retrouve aussi Keith Forsey, qui co-écrit plusieurs titres et qui est crédité parmi les musiciens jouant sur l'album : il participe à la batterie et aux percussions. D'autres musiciens s'ajoutent également aux crédits pour les divers instruments : Mats Bjoerklund, Geoff Bastow, Kristian Schultze... Ronnie Jones lui-même participe à l'écriture de certains morceaux : ainsi, "Groovin'" est écrit par Korduletsch, Forsey et Ronnie Jones.
En 1979, Ronnie reviendra avec l'assez bon lp "Fox On The Run". En revanche, en dehors du titre "Tonite", l'album "Games" de 1980 sera un beau ratage.
Signalons aussi que Ronnie sort de temps à autre un single en compagnie de Claudja Barry : "It Takes Two" en 1977, puis le superbe "The Two Of Us" en 1981, dont voici un passage TV :
http://youtu.be/mc4Q8Q8fark
http://www.mediafire.com/listen/sdaa5tj8c5add9q/02-groovin.mp3